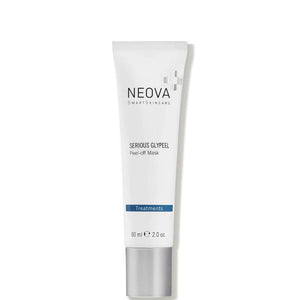 Neova's Serious Glypeel Peel-off Mask is fueled by glycolic acid to boost the skin's natural radiance. Aloe vera soothes redness and inflammation while hyaluronic acid softens and hydrates the skin. Vitamins A and C fight against environmental damage and keep dark spots and discoloration at bay.
Key Ingredients:
Aloe Vera: provides relief for irritated and inflamed skin
Glycolic Acid: sloughs off dead skin to boost brightness
Hyaluronic Acid: draws moisture from the air to keep your skin hydrated all day
Vitamin A: fights environmental aggressors and boosts collagen production
Vitamin C: shields healthy skin cells from free radical damage
Key Benefits:
Exfoliates and hydrates
Boosts skin's tone, texture, and clarity
Fights against environmental damage
Fragrance and paraben-free
Tip: Use once or twice a week, or as skin tolerates.