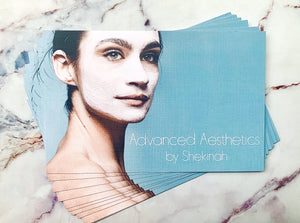 The Eighty consists of a thorough analysis of skin, and treatment is formulated based on ultimate goals.
Elements can include dermaplaning, peels, microdermabrasion, LED therapy, microcurrent, hydradermabrasion, cryotherapy, oxygen infusion, ultrasound, lymphatic facial cupping drainage massage, high frequency, and/or electrolyte infused hydrojelly mask. 

The Eighty includes a custom built skincare regimen (products purchased separately). This facial is recommended for first time patients.

note: if you are late to your appointment, you lose that time. If you no-show to appointment you loose full amount paid. No refund or reschedule if you no-show. No-show means you did not arrive to your appointment within the first 15 minutes of your appointment time. 
If you wish to reschedule, you must do so 24 hours in advance.