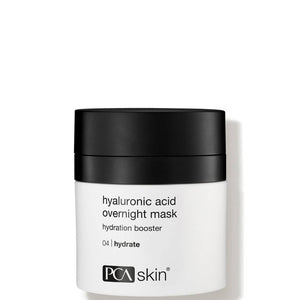 PCA Skin's Hyaluronic Acid Overnight Mask intensely hydrates and rejuvenates skin while you sleep. A blend of sodium hyaluronate, niacinamide and panthenol work together to boost moisture retention, radiance and luminosity while enhancing the skin's natural regeneration process. Additional natural extracts calm and soothe to encourage deep, restful sleep.
Key Ingredients:
Sodium Hyaluronate: a high molecular weight hyaluronic acid that occludes the skin, attracting and holding 1,000 times its weight in moisture within the skin. It provides smoothing and softening benefits while reducing transepidermal water loss (TEWL)
Hydrolyzed Hyaluronic Acid and Hydrolyzed GAG: a small molecular size of hyaluronic acid and glycosaminoglycans that are able to penetrate through the skin to deliver deeper moisturization and significantly reduce deep wrinkles
Niacinamide: a potent, yet calming antioxidant that delivers multiple important benefits to the skin. It helps to reduce transepidermal water loss (TEWL) and improve barrier function. This is critical for healthy, bright skin
Panthenol: a pro-vitamin of b5 that provides deep moisturization and reduces transepidermal water loss (TEWL) to increase skin's overall moisture retention
Albizia Julibrissin Bark Extract: an anti-glycation agent that reduces the formation of glycotoxins that damage dermal proteins and lead to reduced cellular function, or cellular fatigue.
Key Benefits:
Deeply hydrates and rejuvenates skin overnight
Boosts skin's radiance and luminosity
Additional natural extracts calm and soothe to encourage deep, restful sleep
How to Use
After cleansing, toning, and applying the appropriate PCA SKIN® treatment serums and moisturizer, smooth onto the skin at night to reveal radiant, hydrated skin in the morning. May be used nightly or as needed.
Ingredients
Water, Glycerin, Cyclopentasiloxane, Isopentyldiol, Propanediol, Dimethicone, Albizia Julibrissin Bark Extract, Niacinamide, Hydrolyzed Yeast Protein, Panthenol, Dimethicone/PEG-10/15 Crosspolymer, Phenoxyethanol, Sodium Chloride, Butylene Glycol, Sodium Hyaluronate, Sodium Citrate, Hydrolyzed Hyaluronic Acid, Pentylene Glycol, Fragrance, PEG-10 Dimethicone, Hydrolyzed Glycosaminoglycans, Beta-Glucan, Cellulose.