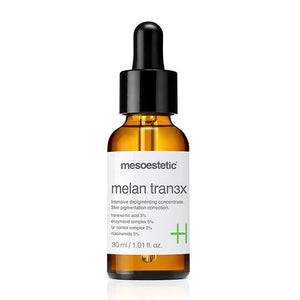 Intensive depigmentation serum.
This serum acts on the excess of epidermal pigmentation reducing the melanin formed and visibly attenuating dark spots.
Method of use

Apply 3-4 drops of melantran3x concentrate on clean and intact skin and distribute evenly. 

Active Ingredients
Tranexamic acid, Tyr control complex, Enzymatic complex, Marine glycogen, Niacinamide.
Size: 30 ml